CHUM Research Center | CRCHUM
Centre hospitalier de l'Université de Montréal (CHUM)
MARIE-JOSÉE JOLY

, OAQ, LSSGB

CHRISTINE JALBERT-LARAMÉE

, OAQ

ERIKA LANDRY

, OAQ

VIRGINIE TOUTANT

, OAQ

LUC FOURNIER
LAURA MOORE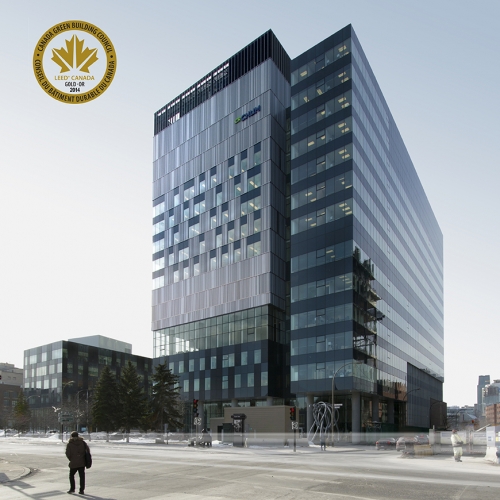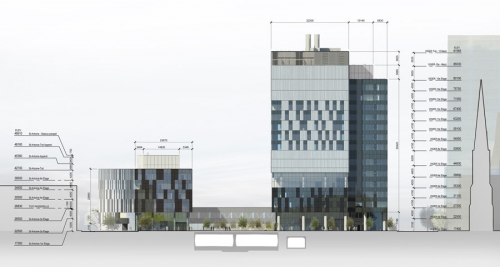 Location:

Montreal, Quebec



Completion:

2013



Gross area:

71,000 m2



Construction cost:

$325M


The CHUM Research Centre is Quebec's largest health research centre. The Univeristé de Montréal-affiliated institute has more than 1,300 people working on-site, including nearly 400 researchers, 356 students, and administrative and technical staff currently based in six different buildings. The goal of the project is to provide the CHUM and its scientific community with a world-class, stimulating, accessible and open research centre that will be the anchor of CHUM Centre-Ville and help sustain the institution's scientific excellence.
The CRCHUM, with floor space totalling approximately 70,000 m², comprises the Viger and St-Antoine towers, located next to the new hospital complex. The Viger tower is fifteen stories high and includes a teaching centre, clinical and basic research facilities, a vivarium and specialized laboratories. On the fifth floor, where teaching and research activities intersect, there are administrative offices, an agora and a 180-seat lecture hall. The St-Antoine tower is home to the population health group (epidemiological research), offices for several CHUM departments and the hospital's childcare centre. A walkway on the second floor connects the two towers.
Sustainability was a key concern for the team from the beginning of the design process. In addition to specifications requiring that the project receive LEED Silver certification, additional design and construction work has allowed the project to meet LEED Gold standards.
In consortium with MSDL, JLP, Lemay and Parkin Architect
Awards: Prix Armatura 2012 - IAAQ, Montreal, QC