Renovation of Clinique OVO
Clinique OVO
RAFIE SOSSANPOUR

, OAQ, OAA, MRAIC

MASAHARU FUKUSHIMA

, OAQ, FRAIC

VREJ-ARMEN ARTINIAN

, OAQ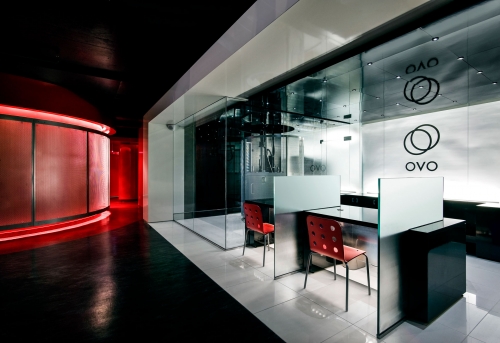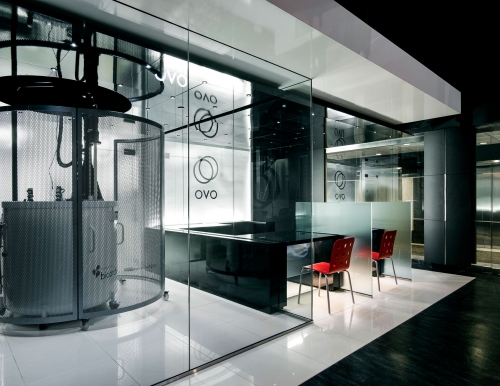 Location:

Montreal, Quebec



Completion:

2009



Gross area:

785 m2



Construction cost:

$ 1.8M


Beyond the need to create a space which would meet stringent functional requirements while appealing to its visitors, OVO Bioscience intended to use the design of the clinic to increase public awareness of this leading edge technology and of stem cell research in general. With this in mind, they sought to create an avant-garde, high-tech image for the bank, showcasing the reservoir where the cord blood is stored.
The cryogenic reservoir and the technology it represents are at the heart of this project. The architects' approach to the design was to delineate the public and private realms of the clinic, expressing them as outer and inner universes.
The outer universe comprises the reception including the consultation area and the displayed reservoir. Its futuristic feeling is symbolic of the state-of the art technology of the clinic. The reservoir, wrapped in a perforated metal screen is showcased in a glass-enclosed room, adjacent to the consultation area with its black epoxy slab counters and frosted glass partitions. These two areas are framed by an overhead bulkhead finished in white glossy laminate and rest on a white ceramic floor, all set against a backdrop of frosted glass which filters the light from the private laboratory areas behind it. A glossy black laminate ceiling (with recessed LED lighting) and a black linoleum floor in the general reception serve as a neutral background to the display area, ensuring it is the main focus.
The inner universe comprises the ultrasound imaging rooms, and the corridor leading to them, as well as to the other semi-private and private laboratory areas of the clinic. The undulating architecture of this passageway and its colors and finishes are symbolic of a woman's reproductive organs and umbilical cord. They include glossy red paint for the walls and ceiling, red linoleum for the floors and perforated red barrisol panels at the perimeter glazing. These glossy membranes line the entire length of the glazing, screening the view of the mountain in the daytime and the bright lights of the busy commercial boulevard below it, at night. The intended visual effects along with the reflective quality of the LED ceiling lighting all serve to heighten the drama of this area. The ultrasound examination room is designed in a circular form reflecting the mystery of the experience. The selected colour scheme is composed of dark walls, a red linoleum floor, and a white ceiling lit with an organic shaped indirect lighting fixture, creating an effective backdrop for viewing of imaging and creating a focus on the voyage in to the inner universe.
Awards:
• Prix Intérieurs / FERDIE 2009 Awards – Category: Healthcare, Montreal, QC
• Best of Canada 2009 Design Award – Category: Institutional, Montreal, QC
Publication:
• Doctor's Practices, Michael Galindo, 2011, Suisse