Barclay School | Expansion of the existing building | CSSDM
Commission scolaire de Montréal
RAFIK SIDAWY

, OAQ

MASAHARU FUKUSHIMA

, OAQ, FRAIC

VREJ-ARMEN ARTINIAN

, OAQ

ISABELLE LISI

, OAQ

THOMAS ROBERGE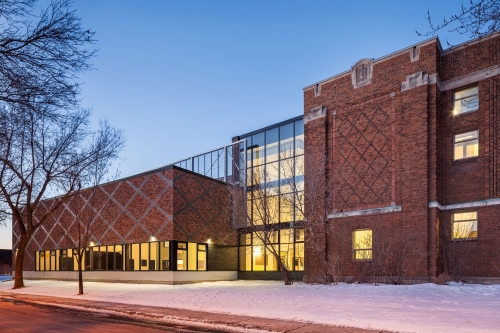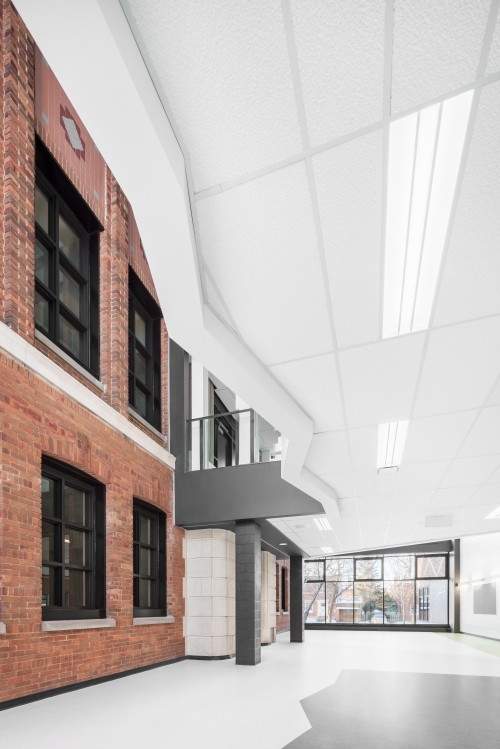 Location:

Montreal, Quebec



Completion:

2013



Gross area:

2,853m2



Construction cost:

$7.1M


The new student-teacher ratio set by the Ministère de l'Éducation, du Loisir et du Sport (M.E.L.S.), the need to meet ever-growing space requirements, and the need for adequate sports facilities are the main factors behind the Barclay School expansion project.
To meet those goals, the school expansion project included 14 new classrooms, a computer and robotics room, a daycare space, a multi-purpose space, administrative offices and a new double gymnasium.
The expansion was designed to integrate with the existing structure – a heritage building – while adding a more modern expression. The connection between the existing building and the addition is a three-story open space with large windows, allowing the existing rooms without outside windows to receive some natural light.
To maintain a sense of continuity, a main traffic zone preserves a simple, direct link between the original building and the addition, providing the flexibility desired by building users.
The project includes a sustainability component and a targeted 25% reduction in energy consumption using the Model National Energy Code for Buildings as a benchmark. The new structure's envelope was designed to improve the building's thermal performance, and a thermal wheel-based heat recovery system was installed. The new building also has a white roof and a green vegetation screen.
Awards:
Grands prix du design 2014 – Category: Teaching facility, Montreal, QC
Asia Pacific Interior Design Awards for Elite 2015 – Silver Award, Hong Kong